Tim Farrow
A member of the bar since 1999, Timothy S. Farrow joined Domers Bonamassa in 2019. The firm's office is located in Marlton, New Jersey. Tim is certified by the New Jersey State Supreme Court as a Criminal Trial Attorney. He frequently conducts lengthy and complex jury trials concerning criminal charges of the highest level. His practice has focused exclusively on criminal defense for over fifteen (15) years.
Position: Of Counsel — Mr. Farrow is admitted to all New Jersey courts.
Areas of Practice
Criminal Law
DUI/DWI Defense
Marijuana DUI
His practice includes all levels of criminal defense work. He represents defendants in matters that range from Indictable (felony) cases such as CDS (Drug) Offenses, Sex Offenses, Theft, Embezzlement, Computer Crime, Murder, Aggravated Assault, Weapons, Robbery, etc., to Municipal Court offenses, such as, Drunk Driving, Driving while Suspended, No Insurance, Leaving the Scene, etc., to Disorderly Persons Offenses such as Shoplifting, Assault, Harassment, Possession of Marijuana, Possession of Paraphernalia, and Drug Loitering, etc.
He is a frequent panelist at seminars concerning these topics and is recognized and highly respected in courts throughout South Jersey. He has also has been appointed by several municipalities to serve as the Public Defender. Tim was recently appointed by the New Jersey Supreme Court to serve on its Committee on Character, charged with reviewing every candidate for the New Jersey Bar.
Education
Rutgers University School of Law, Camden, NJ: Juris Doctor, 1999
Catholic University of America, Washington, D.C.: B.A., Political Science; Honors Degree in Classical Philosophy with a German minor. Graduated Magna Cum Laude; member of Phi Beta Kappa and Pi Gamma Mu; interned in the office of Congressman Robert Andrews (D-NJ), U.S. House of Representatives
Professional Memberships & Accomplishments:
New Jersey Supreme Court: Criminal Trial Attorney (Certified 2018), Member (2016-present), Committee on Character
Burlington County Bar Association: Member (2000-present); President (2011-2012); Trustee (2004-2007); Municipal Court Committee Vice Chair (2008-2009); Criminal Practice Committee Vice Chair (2007-2008); Mock Trial Committee Chair (2002-2007); Criscuolo Award Winner (2005) – presented to outstanding young lawyer
Camden County Bar Association: Trustee (2019-present); Member (1999-2000, 2002-present), Young Lawyers Committee (2002-2009)
New Jersey State Bar Association: Member, Criminal Practice and Municipal Court Committees
Association of Criminal Defense Lawyers of NJ: Trustee (2019-present); Member (2009-present)
Rutgers University Alumni Association: Chair of Board (2015-present); Treasurer (2011-2014); Board Member (2008-2010)
Rutgers University School of Law – Camden Alumni Association: Chancellor (2006-2008)
South Jersey Magazine: Top Attorneys (2007-2012, 2015-2017)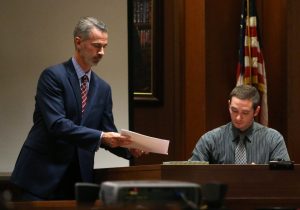 Tim is a Past President of the Burlington County Bar Association. He was the 2005 winner of the Burlington County Bar Association's prestigious "Robert W. Criscuolo Award" for Outstanding Young Lawyer of 2005. He has held many positions within the Burlington County Bar Association including Chair of the Juvenile Subcommittee, Co-Chair of the Municipal Court and Criminal Bench Bar Committees, Chair of the Young Lawyer Committee, and Coordinator of the Mock Trial Program. He is also a member of the Camden County Bar Association and New Jersey State Bar Association, where he serves on the Criminal Practice and Municipal Court Committees.
Tim is the immediate Past Chair of the Rutgers University Alumni Association, leading a university-wide Board which represents over 490,000 Rutgers alumni around the world. He also served as Vice Chair and Treasurer, and he has served on the Board since its inception in 2008. He previously was Chancellor of the Rutgers University School of Law – Camden Alumni Association from 2006-2008.
A native of Washington Township in Gloucester County, Tim currently resides in Collingswood, where he served as a member of the Board of Education and serves as a league coordinator and coach of various recreation teams. Tim graduated Magna Cum Laude from Catholic University of America in Washington D.C. with a B.A. in Political Science and Honors Degree in Classical Philosophy with a German minor. He also was made a member of Phi Beta Kappa. He received a law degree in 1999 from Rutgers University School of Law in Camden, NJ, where he served as President of the Graduating Class.



Other Specialized Practice Areas
Click on the Tabs below to Learn More
Moorestown Criminal Assault Lawyers
Providing Compassionate Defense throughout New Jersey
Facing charges of assault can be a daunting experience for anyone. Under New Jersey law, assault charges, depending on the nature of the alleged incident, can range from fourth- to second-degree crimes and can carry prison sentences of anywhere between 18 months and 10 years. Fines can range from a few hundred to thousands of dollars. Additionally, while simple assault may be treated as a lesser crime, aggravated assault is often a crime of the second-degree, which, upon conviction, can have a detrimental effect on future employment possibilities and even where you want to live.
Because of the heavy penalties, enlist the help of legal professionals in New Jersey who can advocate successfully on your behalf if you face assault charges. At Dash Farrow, LLP, our criminal assault attorneys in Moorestown have handled numerous criminal cases throughout New Jersey and can help protect your rights as you progress through this troubling time.
Possible Defenses for Assault Charges
Depending on the specifics of your case, there will be a variety of defenses that a lawyer can employ on your behalf, all intended to help you achieve your desired outcome.
If you face assault charges in New Jersey, we can help show:
Factual evidence is insufficient or does not actually exist at all to demonstrate that you were involved in an assault;
You acted solely in self-defense in order to protect yourself from harm if a third party did sustain physical injuries; or
Evidence that aggravated assault charges should be simple assault charges (such as by showing that there was no deadly weapon present during the incident)
Furthermore, upon examining the nature of your case, we can craft a personalized strategy in order to provide you with the best defense possible based on the circumstances.
Why You Need an Attorney for Assault Charges
If you have been charged with assault, then your future and possibly your freedom are on the line.
Those convicted of assault charges may experience:
A decrease in future job opportunities because they may be required to disclose this conviction on any applications;
Difficulty finding housing in many locations throughout New Jersey (many landlords perform criminal background checks on potential tenants); and
Unpleasant conversations with future friends or partners because many people may automatically shy away from an individual who carries a criminal conviction.
Of course, this does not include a possible lengthy prison sentence, as well as high fines, which can be a detriment to your future quality of life.
Contact Domers Bonamassa, P.C. Today
No matter the specifics of your case, if you have been charged with assault, you should speak with an assault lawyer who has experience in the criminal defense field.
The legal professionals at Domers Bonamassa, P.C. can provide you with a consultation and begin creating a defense strategy that is unique to your case. Call us today at (856) 596-2888.
Domestic Violence & Restraining Orders
Experienced Domestic Violence Lawyers in Moorestown, New Jersey
If you have been accused of a domestic violence crime in New Jersey, the Moorestown domestic violence defense attorneys at Dash Farrow, LLP can help. Our team understands that just because you have been accused of domestic violence does not mean that you are guilty. We can assist you by building a strong legal case that could prevent unwarranted restraining orders, fines, and jail time.
Take action to protect your rights today, by calling our tenacious attorneys at (856) 596-2888. We are prepared to stand by your side to fight for you.
Defense Against Domestic Violence Charges in South Jersey
False allegations or exaggerated claims are not uncommon in domestic violence cases. When an individual is charged with a domestic crime, it can be easy to forget that he or she is innocent until proven guilty. This is true for all types of domestic violence situations.
Common types of domestic violence cases include:
Physical abuse
Verbal abuse
Sexual abuse
Financial abuse
Threatening behavior
Unwanted communication
Regardless of the type of charge, it is important to have an experienced attorney who will fully investigate the facts and circumstances of your case. A competent legal representative should confirm that there was probable cause for any search, seizure, or arrest that was ordered against you.
In the event that the prosecution has evidence against you, your lawyer should determine if any of your rights were violated during the process of gathering the evidence. If so, your lawyer can argue for that evidence to be dismissed or for the charges that have been brought against you to be completely dropped.
Contact Domers Bonamassa, P.C. Today
Choosing a lawyer to handle your case can be one of the most important decisions you will ever make. Contact our domestic violence defense lawyers today to experience firsthand why you should entrust your case to Domers Bonamassa, P.C. We are committed to the protection of your rights and the securing of your best future.
Reach out to our legal team today at (856) 596-2888 for help with your domestic abuse case. Put our extensive knowledge and years of experience to work for you.
Content goes here
Content goes here
Content goes here
Content goes here
Content goes here
Content goes here
Content goes here
Content goes here
Content goes here
Content goes here
Content goes here
Content goes here
Content goes here
Content goes here
Content goes here
Content goes here
Content goes here
Content goes here
Content goes here
Content goes here
Content goes here
Content goes here